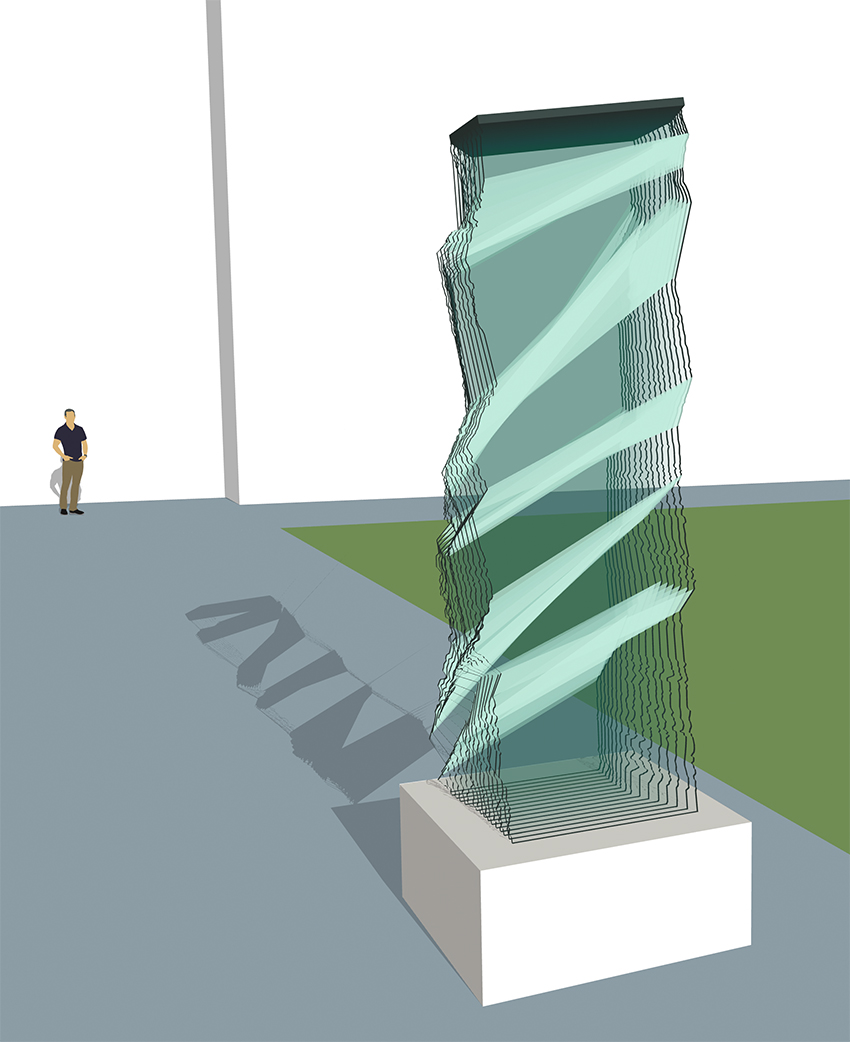 Cooperation with Friedrich Lux
multilayered glass sculpture 325 x 70 x 90 cm (128 x 27.5 x 35.5 in)
design "Art in Architecture" for the construction project Renovation of the administrative building of the State Office for Geology and Mining (LAGB), Halle /Saale
non-open One-phase Competition with preceding Application Process
client: Construction and Real Estate Management Saxony-Anhalt (BLSA)
2021
financial Framework: € 80,000
partner: Peters Glass Studio Paderborn
When considering geology in its depth, one immediately encounters the diverse forms of minerals. Like a fantastic distant world, crystalline elements form before the viewer's eyes. Cubes, pyramids, and tetrahedrons emerge from various individual minerals—sometimes transparent, sometimes milky, sometimes with deep colors. An immediate association with glass arises, and thus the use of this very material for the artistic design of the square in front of the State Office for Geology and Mining in Halle was a natural choice. Additionally, quartz and limestone, two essential raw materials for glass production, are extracted from the local region around Halle.
The idea of the "Petrograph" was born—a layered glass structure with a total height of 3.25 meters (128 in). The glass body consists of 16 sequentially layered sheets. The outer edges are amorphously cut, reminiscent of rock or stone structures. The clear inner surfaces capture the crystalline, geometric character of various minerals and contrast in their texture with the rough outer edges. The inner surfaces themselves are further broken by pale, white areas, creating optical disturbances reminiscent of those found in various geological rock layers.
The arrangement of the glass sheets is emphasized by the gaps between them, measuring 3.4 cm (1.34 in). This segmentation of the body underscores the analytical process taking place in the laboratories of the State Office for Geology and Mining. The layering of the glass plates also creates new zones of light within the glass body itself. Light is an integral part of glass; it shapes and models the actual space around it, giving rise to a glass artwork. The different surfaces, clear and milky, refract the light along the edges. A unique world of light and shadow emerges both in front of and within the work "The Petrograph."
The viewer must interact with the light, with the various structures and perspectives of the artwork. Through different times of day and the movement of the sun, the sculpture's image is ever-changing—a approach that underscores the fundamental idea of the State Office for Geology and Mining in Halle: the fascination and discovery of details in seemingly coarse rock and earth layers.
The title "The Petrograph" (Petrography: the science of petrology) personifies the object, the artwork. Enthusiasm, discovering vitality in petrology and geology, can only occur through human exploration and analysis. It is the individual who must engage in a dialogue with the rocks; otherwise, the intricacies and depths will go unnoticed. This dialogue, the fascination with detail, the engagement with the seemingly cold material, is what the artwork seeks to capture and personify. A gaze, a thought for analysis, a conversational partner.